Affiliated Business Disclosure
This is to give you notice that Houlihan/Lawrence Inc., doing business as Houlihan Lawrence ("Houlihan Lawrence"), HomeServices Relocation, LLC, Silvermine Ventures, LLC doing business as Thoroughbred Mortgage ("Thoroughbred Mortgage"), and Thoroughbred Title Services, LLC are part of a family of companies (the "Affiliated Companies"), and each may refer to you the services of another. Houlihan/Lawrence Inc., HomeServices Relocation, LLC, Thoroughbred Mortgage and Thoroughbred Title Services, LLC are each wholly owned by HomeServices of America, Inc. ("HSoA"), either directly or through one or more subsidiaries. Because of these relationships, the referral of a customer (including you) by any of the Affiliated Companies to another may provide the referring company, its affiliates, and/or their employees with a financial or other benefit.
Set forth below is the estimated charge or range of charges for each of the services listed. You are NOT required to use any of these service providers as a condition of the sale of the subject property or to obtain access to any settlement service.
THERE ARE FREQUENTLY OTHER SETTLEMENT SERVICE PROVIDERS AVAILABLE WITH SIMILAR SERVICES. YOU ARE FREE TO SHOP AROUND TO DETERMINE THAT YOU ARE RECEIVING THE BEST SERVICES AND THE BEST RATE FOR THESE SERVICES.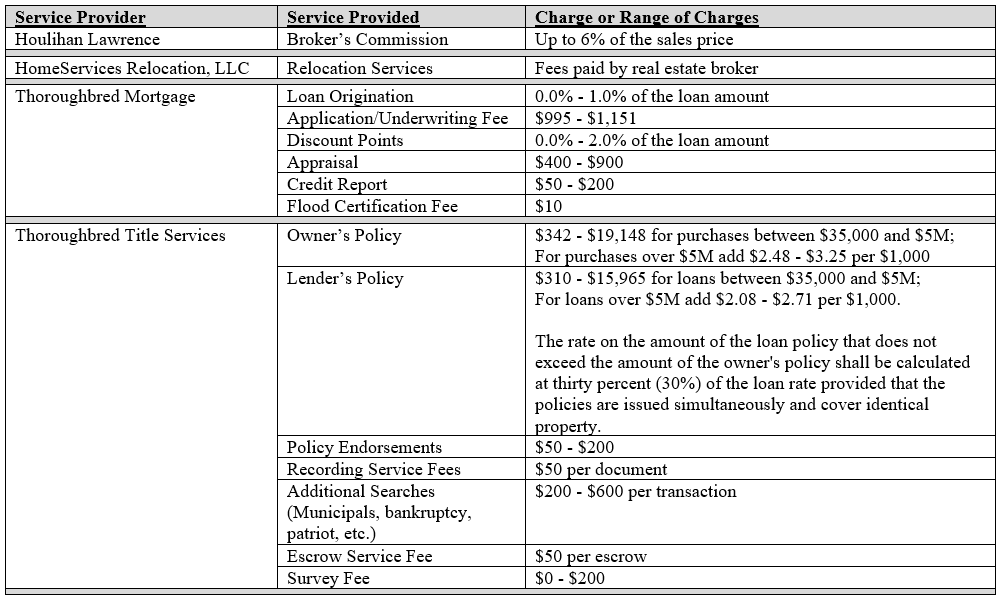 HSOA-00017948.9 - Rev 1/1/19